My Facebook page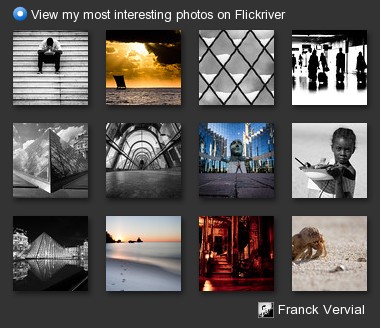 Expositions :
English:
I am a passionated non-professional photographer. The photography is for me firstly a pleasure. I love to search images during my travels and in Paris.
My favourite themes are :
-
architecture
: I love to integrate an element as a people in a very graphical whole;
-
street scenes
: I love catch emotion, funny or surprising pictures;
-
landscapes
: our beautiful planet surprises me everyday by its wealth;
-
night
: Paris is nicknamed "Light city ("ville lumière" in franch), so...
Français
:
Je suis un photographe amateur et passionné. La photo est pour moi avant tout un plaisir. J'aime rechercher les images au cours de mes voyages et à Paris.
Mes sujets de prédilections sont :
- l'
architecture
: j'aime intégrer un élément comme une personne dans un ensemble très graphique;
- les
scènes de rue
: j'aime capturer une émotion, une image amusante, surprenante...
- les
paysages
: notre jolie planète me surprend chaque jour par sa richesse;
- la
photo de nuit
: Paris est appelé la ville lumière, alors pourquoi ne pas en profiter ?